Come out and enjoy the beautiful spring weather in Wimberley, don't miss the next Wimberley Market day. Find the finest Mexican handcrafted work by artisans of Mexico at the Wimberley Market Day.We're there on all market days: the first Saturday of each month from March through December, from 7 AM to 4 PM. The next market day is Saturday, June 1sr., 2013. Visit us at Booth 87.
Come to visit us and enjoy the great Earth Celebration at the beautiful Aquarena Center.
Aquarena Center: Texas State University.
Due to the severe weather forecast throughout the day, we will not set up until Sunday, Sept 30th. We look forward to an amazing Sunday.
The Pecan Street Festival is a free, biannual juried arts and crafts festival held on 6th Street in Austin, Texas. The festival has been an Austin tradition for more than 30 years. Come and visit us at Booth 81 (6th Street and Trinity) Saturday, Sept 29th. 11 AM-10 PM, and  Sunday, Sept 30th, 11 AM-8 PM. OLD PECAN STREET FESTIVAL
Old Pecan Street Festival 2009 video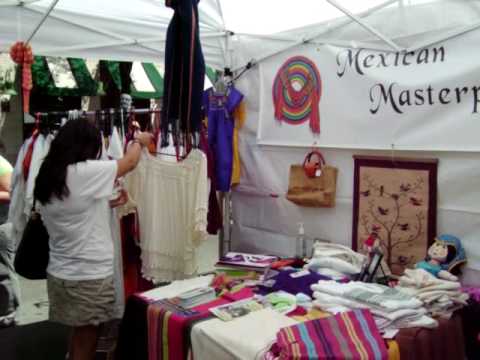 Bark Paper (Papel Amate)
Nowadays Bark Paper is still made using Pre-Hispanic techniques.
The bark is shaved of the tree, soaked and cooked. The fibers are then pounded by hand using a volcanic rock until they spread to the desired shape, consistency and thickness. The artisans can also insert beautiful woven patterns by rolling and twisting the fibers. Finally the masterpieces is dried in the sun. The paper color depends on the bark used to make it (mulberry, lime or fig tree) and, it's important to mention that the bark always grows back.
Don't get confused, we celebrate for two days, but the day of the death is November 2nd.
November 1st. is All Saints Day (DIA DE TODOS LOS SANTOS) people honor the Saints and remember the children who have died. They set up altars honoring family members using marigolds, hand cut paper (PAPEL PICADO), candles, the favorite food and beverages of their dead, their photographs, bread (PAN DE MUERTO) and many other elements. Toys and white flowers are use to remember and honor the children and tequila, mezcal or any other adult beverages for the old ones.
November 2nd. is Day of the Death (DIA DE LOS MUERTOS) and the celebration starts at midnight, we also gather at the cemeteries to pray, clean and decorate the graves.
The celebration in every region is different, in places like Michoacán, people spend the night at the cemeteries.
Viva La Vida Fest is a Mexic-Arte Museum's annual  festival held on 5th Street in Austin, Texas. The festival has been an Austin tradition for 28 years. Come and visit our booth, Congress to Brazos Vendor Fair & Live Performances, Family activities and Grand Procession. Saturday, Oct 22nd. 2-10 PM.
Free Admission